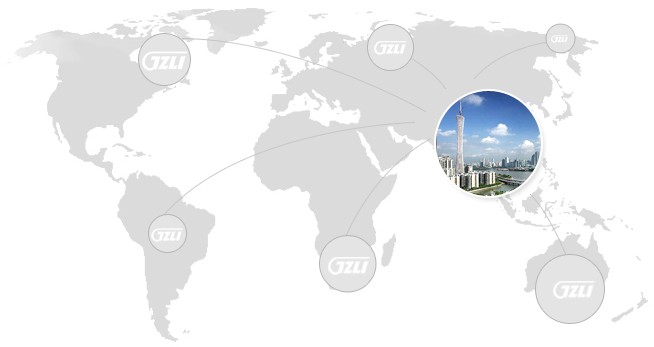 As one of the earliest import & export enterprises in China, GZLI's import & export trading business has gone through sedimentierung in more than half century. It used to be the branch of China Light Industrial Products Import & Export Corporation in eight provinces in South & Middle China, was responsible for purchase and export of light industrial products in Guangdong, Guangxi, Hunan, Hubei, Henan, Szechwan, Yunnan and Guizhou provinces. Since the reform of foreign trade system in the Nineties, GZLI's export business has developed from entrepot trade mainly in near countries & districts such as Hong Kong, Macau and countries in South-east Asia in the early days to ocean trade mostly nowadays. It has set up direct trade with clients in more than 100 countries all over the world.
GZLI's export business covers export of self-owned branded products, OEM, ODM, CMT and FPT. Its main products include Household Appliances, Garments & Textiles, Bags, Footwear, General Merchandises, Toys, Photonics Supplies, Bicycle Tires, Bathroom Accessories, Metals, Building Materials and Furniture etc. Apart from the leading products, GZLI insists on raising core competitiveness of brands and innovation. On one hand, setting up the special fund, bringing in specialists to strengthen self-design & self-exploitation of branded products; On the other hand, expanding market diversification actively, securing the traditional markets in Western, South-east Asia and Africa, in the meantime, developing emerging markets in Latin America and Eastern Europe. Through the perfect commodity composition, professional service and excellent reputation, GZLI's export achievements are constantly rising. It was continuously awarded as one of the biggest 200 export enterprises in China, also being awarded as the leading enterprise for general export trading in Guangdong.
In recent years, the sustained appreciation of RMB and the transformation & upgrading of industrial structure have brought huge impact to the traditional concept and business environment for foreign trading enterprises. But GZLI positively adjusted its policies, making the best supply chain by using integration of resources as the developing direction of export, establishing upper course integrated strategy of using raw materials integrated purchasing as the center point and setting up lower course development strategy of using one-stop shopping service platform as the center point. Not only it effectively managed and controlled export costs, but also increased value-added services for supply chain. By matching up the deploitation of direct channel to branded products overseas, participating and managing the upper, middle and lower course of supply chain totally, GZLI will achieve profound changes of export trading profit model and huge improvement of profitability with the help of supply chain integration.