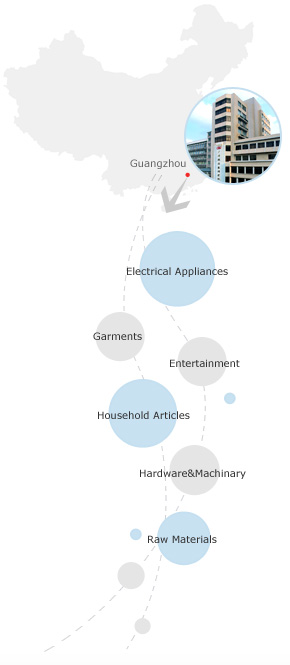 Established in 1956, Guangzhou Light Holdings Limited has been standing by the prosperous & beautiful Pearl River for over half century. As one of the earliest professional Import & Export Companies in China, GZLI has become an International Trade Group Company which combined with Import & Export Trade, Domestic Trade, Warehousing & Logistics. Also, GZLI is one of the Advanced Companies for high quality and effectiveness in Chinese International Business, one of the best 500 Import & Export Companies in China, one of the best 100 Import & Export Companies in Guangdong.





GZLI has 11 wholly-owned subsidiaries. Products cover Household Appliances, Garments & Textiles, Bags, Footwear, General Merchandise, Sports & Stationery Goods, Metals & Mechanical and Mineral Resources. Based in Pearl River Delta, GZLI has huge domestic supply network. Our products export to more than 120 countries and districts all over the world. Meanwhile, GZLI purchases and imports raw material and equipment for lots of domestic enterprises, introduces the International Brands into China. Continual innovation and powerful resources integration give GZLI more powerful competitiveness. According to different characteristic of market and the demand of clients, we provide our clients with first class of service and the best supply chain.
GZLI devotes itself to provide products of high quality and full of competitiveness for our clients all over the world by sticking to our enterprise spirit: growing in harmony and contributing to society; Makes the International Brand of Chinese light industrial products; Tries our best to become a professional and remarkable international merchant and provider; Creates more achievements of commercial prospects for all our clients.